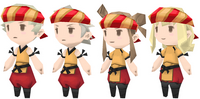 (Fighter, 武道家?, lit. Budouka) is one of the Crowns in Final Fantasy: The 4 Heroes of Light. The Fighter focuses on extra bare-handed damage, and is obtained after defeating the Ice Dragon on Invidia Underground.
Abilities
Name
Description
AP
Gems Needed
Combat
Increase the odds of landing a critical hit. Lasts four turns.
1
None
Jugular
Strike a foe with a critical hit.
2
5 Rubies
5 Emerald
Chakra
Double your own HP for the duration of the battle.
3
6 Rubies
2 Topazes
1 Amethysts
Frenzy-fu
Deal combo damage to an enemy. Ends with a fire punch. Heavy damage
4
3 Rubies
7 Emeralds
7 Lapis
2 Amethysts
1 Diamond
Gallery

This section about a job class in Final Fantasy: The 4 Heroes of Light is empty or needs to be expanded. You can help the Final Fantasy Wiki by expanding it.
Template:FFT4HoL