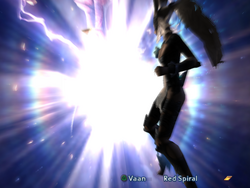 Feral Strike (乱命割殺掌, Ranmei Kassatsu Shō?, lit. Riot Life Splitting Killer Palm) is a recurring ability in the series. It is a Quickening used by Fran.
Appearances
Edit
Feral Strike is the level 1 Quickening for Fran. It has a power of 90 and deal non-elemental damage. Damage done is equal to a random number between 1 and the power of the Quickening multiplied by a random number between 1 and the character's Strength.
Etymology
Edit
The attack's Japanese name derives from that of Cleansing Strike, an ability from Final Fantasy Tactics.
Community content is available under
CC-BY-SA
unless otherwise noted.