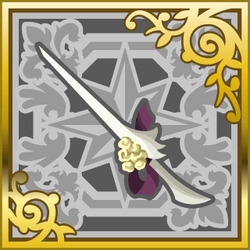 Kings and kingdoms have risen and fallen at the whim of this ensanguined sword.

Final Fantasy Tactics A2: Grimoire of the Rift description
Femme Fatale (ファム・ファタール or ファムファタル, Famu Fatāru?) is a recurring weapon in the series.
Appearances
Edit
A rapier with a cursed tip, made to debilitate and debuff enemies. Rank: Basic.

Description
Femme Fatale provides Strength: +90, Magic: +220, Status Ailment Damage: +50%, and Status Ailment Duration: +20%. It is obtained during the main quest in Yusnaan, as the weapon Lightning is to wield during the Song of the Savior performance. It can also be bought at Ruffian's Lady Luck Forge for 4,000 gil.
Blood-red rapier able to cut the hand of fate.

Description
Femme Fatale is the most powerful rapier, providing 49 Attack, 2 Speed, and immunity to Doom.
Femme Fatale is the third strongest rapier, providing 52 Attack, 2 Speed, and immunity to Doom. It can be obtained from the Bazaar from the Fencing Foils A pack.
The Femme Fatale is one of Lightning's unlockable weapons, and is based on the weapon's appearance from Lightning Returns: Final Fantasy XIII. It can be obtained either by random chance when redeeming a Treasure token, or by purchasing them from the Shop for 7,200 Gil. Like all other characters' weapons, having it equipped carries no advantages or disadvantages.
Etymology
Edit
[view · edit · purge]A femme fatale (French for "fatal woman"), is a mysterious and seductive woman whose charms ensnare her lovers in bonds of irresistible desire, often leading them into compromising, dangerous, and deadly situations. She is an archetype of literature and art.
Community content is available under
CC-BY-SA
unless otherwise noted.