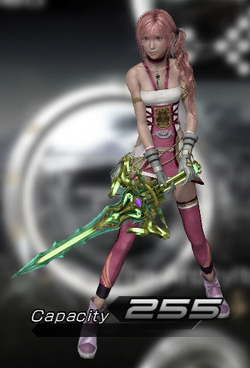 A Mog getting in touch with his 'magical faerie' side transforms into this weapon. Increases ATB gauge recharge rate.

Final Fantasy XIII-2 description
Faerie's Bow (フェアリーボウ or 妖精の弓, Fearī Bō or Yousei no Yumi?, lit. Fairy Bow), also known as Fairy's Bow or Fairy Bow, is a recurring bow in the series. It is either a low-ranked weapon or the strongest bow when it appears.
Appearances
Mysterious bow that sometimes confuses enemies. Must be used two-handed. Full power from back row.

Description
Fairy's Bow is the strongest bow in the Game Boy Advance and iOS versions, providing 130 Attack, 100 Hit Rate, and a 12% chance to inflict Confuse on hit. It can be dropped from the Grand Aevis in the Sealed Temple.
Faerie's Bow is a low-ranked bowsword for Serah, providing 12 Attack, 15 Magic, ATB Rate: +25%, and the synthesis ability Buff Duration. It can be bought from Episode 3 and onwards for 780 gil and Shattered Bone x2.
Faerie Bow is a 70CP weapon exclusive to Serah, it unlocks her EX Ability Ultima Arrow.
A bow made by naughty faeries that meddles with enemies' memories to inflict fog.

Description
Gallery
Etymology
[view · edit · purge]A fairy is a type of mythical being or legendary creature, a form of spirit, often described as metaphysical, supernatural, or preternatural.
Community content is available under
CC-BY-SA
unless otherwise noted.