Yuna, we'll save you!

Wakka
Extractor is a boss in Final Fantasy X, fought by Tidus and Wakka in the depths the Moonflow. It is an Al Bhed machina weapon used to abduct Yuna and halt her pilgrimage. Shortly after this battle, it is revealed the Extractor was piloted by Rikku.
The top half of the Extractor is tied on with white fabric, implying that the machine is actually a repaired and modified Oblitzerator, which was destroyed by the party in Luca.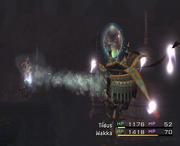 Extractor will use Aqua Shooter twice before rising in preparation to release its Depth Charges that cause massive damage and inflict Darkness. Dealing 500+ HP of damage to the machine cancels its Depth Charges attack and the Extractor will come back down. After the first Rise, it has a 50% chance to skip one of its Aqua Shooter attacks before rising again.
Using Provoke will also cancel the charges, but will increase the Extractor's Magic stat for the next two rounds, which affects damage from Aqua Shooter. It is immediately increased to 30 upon provocation, but reduced to 20 before Aqua Shooter is actually used. When Provoke wears off, it returns to 15, and the regular attack pattern resumes. Should the Provoke effect be broken before it wears off, the Extractor will continue to use Aqua Shooter until targeted.
Yuna is shown at the battle results screen at the end of the battle, as if she participated, but does not get any AP.
Equipping Lightningstrike weapons is helpful, due to the Extractor being a machina. If the player bought the Slowtouch weapon for Tidus from O'aka in Luca, it can be used to inflict Slow on the Extractor.
Making good use of Wakka's Overdrive to deliver a Lightning attack and using Cheer, Haste, and Slow will ensure a not-too-difficult battle.

This section about an enemy in Pictlogica Final Fantasy is empty or needs to be expanded. You can help the Final Fantasy Wiki by expanding it.


This section about an enemy in Final Fantasy Record Keeper is empty or needs to be expanded. You can help the Final Fantasy Wiki by expanding it.
Community content is available under
CC-BY-SA
unless otherwise noted.