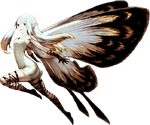 Airy
:
Don't dillydally here. Let's go awaken the crystals.
This article covering content in the
Bravely
series
is no longer within the scope of the Final Fantasy Wiki.
A copy of this article is available
at the Bravely Default Wiki
.
This copy will be deleted soon. Please do not make any additions here.

Please expand this article into a full one. The following tasks need to be completed:
This request can be discussed on the associated discussion page. Remove this notice upon completion.
Relm
:
I couldn't miss the chance to practice my drawing!
This article is in need of a few pictures. Perhaps you can help by uploading a picture.
Eternia, the Land of Immortality (エタルニア, Etarunia?) is a location in Bravely Default and Bravely Second: End Layer. It is located on the northwestern part of the map. Eternia is ruled by the Council of Six, and it is Edea Lee's home country.
In the past, Eternia was a kingdom that protected the Earth Crystal before the Crystal Orthodoxy conquered the land and used it to establish their seat of power in the world with Lester DeRosso a threat to them before he faked his death. However, mountain formations occur that separate the Orthodoxy from the rest of the world, making Eternia extremely difficult to reach by air. As a result, with Sage Yulyana acting against them, the Orthodoxy's hold on the world waned as they are forced to enact the Great Ritual. An army formed by Sage and DeRosso under the command of Braev Lee stopped the Orthodoxy and established the Duchy of Eternia to restore the land to its former glory.

This section about a location in Bravely Second: End Layer is empty or needs to be expanded. You can help the Final Fantasy Wiki by expanding it.
This section in Bravely Default is empty or needs to be expanded. You can help the Final Fantasy Wiki by expanding it.



Magic

| Spell | Price |
| --- | --- |
| Heal | 200 |
| Antidote | 200 |
| Heat | 200 |
| Frost | 200 |
| Lightning | 200 |






"Eternia" refers to aeturnus. [view · edit · purge]Aeturnus is Latin for "eternal."
The continent of Eternia is subtly marked with a lemniscate (symbol:∞) near Everlast Tower, which adds another reference to eternity.
Community content is available under
CC-BY-SA
unless otherwise noted.