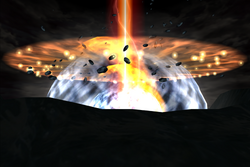 Eternal Darkness (暗黒の運命, Ankoku no Unmei?, lit. Dark Fate) is a recurring ability in the series. It is an ability used exclusively by Ark, dealing massive Dark-elemental damage to all enemies.
Appearances
[
]
Eternal Darkness is the summon ability of Ark when called forth by Dagger. It deals massive Shadow-elemental damage to all enemies with a power equal to 106 + the number of Lapis Lazuli the player has in their inventory. It costs 80 MP to use, but if used before Dagger were to lose her eidolons (not possible in a normal playthrough), it would cost 320 MP to use.
Eternal Darkness can be made to deal 50% more damage by equipping Dagger with Mage's Hat, Light or Black Robe, Ancient Aroma, or Gold Choker. Equipping multiple of these items at once does not stack.
Gallery
[
]