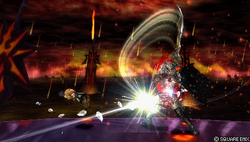 Enrage (アグレッサー, Aguressā?, lit. Aggressor) is a recurring ability in the series. It is often a physical attack used by Gabranth.
Appearances
[
]
Enrage is an enemy ability used by Antlion, Chaos, Gabranth, Garuda, Shemhazai, Slyt, The Undying, and Zalera. It reduces charge time for physical attacks to 0.
Enrage is a ground Bravery physical attack for Gabranth while in EX Mode, learned initially. It requires 140 AP to master and 30 CP to equip (15 when mastered), has Melee Low priority, can combo without hitting, and induces Wall Rush.
Enrage is a Bravery attack for Gabranth while in EX Mode, that requires 90 AP to master and 20 CP to equip (10 when mastered), but otherwise is identical to its previous incarnation.
Gallery
[
]