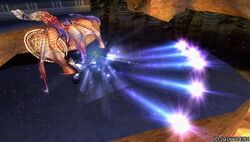 Energy Blast (シューティング・パワー, Shūtingu Pawā?, lit. Shooting Power) is a recurring ability in the series, and is the Overdrive of the aeon Valefor.
Appearances
Edit
Deals non-elemental damage to all enemies.

Description
Energy Blast is Valefor's second Overdrive obtained at Besaid by first talking to the girl in shop, and then finding the village dog. It inflicts massive non-elemental damage to all enemies, and is the stronger of the two Overdrives that Valefor can learn. Energy Blast, ignoring the damage limit, is one of the most powerful attacks in the game, but has a long recovery time.
It is also used as an enemy ability by enemy Valefors as their sole Overdrives, as well as Dark Valefor. When used by Dark Valefor, Energy Blast can hit upwards to 50,000 damage regardless of stats, and is the only attack she has that can break the damage limit.
Energy Blast is an enemy ability used by Valefor, which merely inflicts major non-elemental damage to the party.
Energy Blast is a ground Bravery Attack for Yuna, initially obtained at the start of the game. It is a Magical attack with Ranged Low priority when used solo, but Physical with Melee Low priority when used during Ifrit's attack during EX Mode. It requires 80 AP to master and 30 CP to equip (15 when mastered).
Community content is available under
CC-BY-SA
unless otherwise noted.