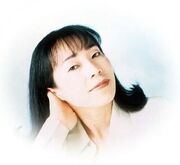 Emiko Shiratori (白鳥 英美子, Shiratori Emiko?) is a Japanese folk and J-Pop singer. Born on March 16th, 1950, she began singing at the age of six. She made her singing debut as part of the duo Toi et Moi in 1969. After the disbandment of the duo in 1973, Emiko went on a solo career.
In 2000, she was approached by Nobuo Uematsu to perform the theme song for Final Fantasy IX, "Melodies Of Life" and she sang for both the Japanese and the English versions of the song. The song was also released as her sixteenth single of the same name by King Records. She also performed for other Final Fantasy themes in her solo album Cross My Heart.
Emiko Shiratori also wrote the lyrics for "Pure Heart", an arranged version of "Aerith's Theme" included on the B-side of the "Suteki da ne" single.
External links
[
]