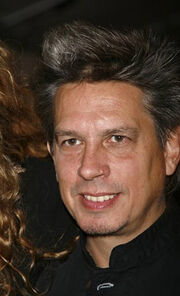 Elliot Goldenthal is an American composer. Born in Brooklyn, New York, in 1954, he grew up in a multi-cultural setting and is influence by the various tunes of music around him. He is a composer of contemporary classical music as well as a films composer. He has won the Academy Award for Best Original Score in 2002 for his score in Frida.
Elliot Goldenthal is responsible for composing the original soundtrack for Final Fantasy: The Spirits Within, Square's first computer animated science fiction movie released for theatrical release. This includes the two vocal tracks "The Dream Within", performed by Lara Fabian and "Spirit Dreams Inside", performed by L'Arc-en-Ciel. He works with the London Symphony Orchestra. On this, Elliot expresses his preference on English musicians, "especially the strings. They don't play with excessive vibrato. Strings use too much vibrato in the States."
Community content is available under
CC-BY-SA
unless otherwise noted.