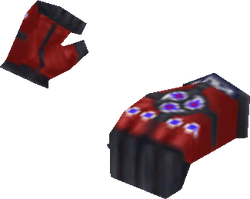 Ehrgeiz is the most powerful fighting glove. It allows the wearer to deliver optimal hits based on his or her abilities.
Ehrgeiz (エアガイツ, Eagaitsu?, lit. Ehregeiz) is a recurring weapon in the series. It is often a high-ranked Knuckle, and originally appeared as the ultimate weapon for Zell Dincht.
Appearances
[
]
Ehrgeiz is Zell's ultimate weapon, obtained by trading an Adamantine, four Dragon Skin x4, a Fury Fragment, and 800 gil. It provides 25 Strength and 103 Hit Rate.
Ehrgeiz is a level 100 grappling weapon that provides -595 HP, +79 Bravery, +67 Attack, and Chase BRV Damage +10%. It can be obtained from the shop by trading 177,840 gil, Cat Claws, Inferno Claws, and Demonic Black Leather.
A pair of red gloves from a faraway world. It is said that these gloves were made for a brave warrior who held no fear in battle. It seems as if a young man with a tattoo on his face wore these gloves as a member of the special mercenary force, SeeD.

Description
Ehrgeiz is a Fist obtained as Zell's Trust Master. It provides 128 ATK and Auto-Bravery.
Gallery
[
]
Etymology
[
]