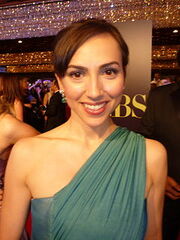 Eden Riegel (born January 1st, 1981) is an American actress and voice actress. She is the voice of Chuami in Final Fantasy X -Will- and the Masked Woman and Hauyn in World of Final Fantasy.
Roles
[
]
Background
[
]
Outside of the series, Riegel is best known for her role as Bianca Montgomery in daytime drama series All My Children. She is also the voice of Sherry Birkin in Resident Evil 6, Estelle in Tales of Vesperia, and Marie in the Persona series. She also plays Anne in Bravely Second: End Layer.
Her brother is Sam Riegel who is the voice of Edward Chris von Muir in Final Fantasy IV and Alphinaud Leveilleur in Final Fantasy XIV.
External links
[
]