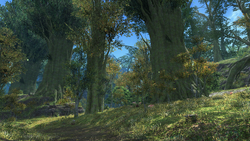 East Shroud is a location in Final Fantasy XIV.
The East Shroud is the eastern most edge of Eorzea, beyond which lies the Garlean controlled Gyr Abania. The immense Baelsar's Wall rings the entire eastern border.
This zone connects to Central Shroud along a road in the Honey Yards, and to the South Shroud in Nine Ivies through Mun-Tuy Cellars. The docks at Sweetbloom Pier run ferries to Gridania.
The only Aetheryte is located at Hawthorne's hut, in south center of the map.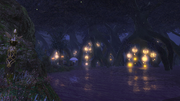 East Shroud contains the following areas:
The Honey Yard - The closest section to Gridania.
Nine Ivies – The southern most area.
Bramble Patch – A tangled grove in the center.
Larkscall - A high-level woodland road in the east, with a distinctive green tint.
Sylphsland - The sprawling stronghold of the Sylph beast-tribe in the northwest.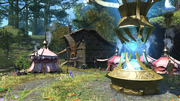 An aetheryte camp run by Rolfe Hawthorne and his family.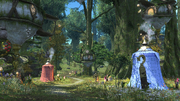 Located near Hawthorne's Hut, this village has become a refuge for untouched sylphs after a schism in the Sylphlands over their primal.

East Shroud's climate may exhibit any of the following weather conditions:
Clear Skies
Sunshine
Fog
Overcast
Rain
Thunder
Tension (only when Odin is roaming the Black Shroud)
Once created long ago during the Fifth Umbral Era as a place of refuge, this sanctuary was rediscovered after the calamity and has since been used for a number of ceremonies.

A Garlean citadel located southeast of Nine Ivies. It runs under Baelsar's Wall and serves as a vital supply line for the XIVth Legion's campaigns in Eorzea.

The deepest part of the forest. Ever since a schism over the primal Ramuh, the sylphlands has become extremely hostile to visitors, whether they be Eorzean or Garlean. The area is perpetually tinted purple.
A colossal metal wall separating the Black Shroud from Gyr Abania. It was built by Solus zos Galvus to protect the empire against beast tribe and primal threats.
Northern Vulture
Tree Slug
Wild Hoglet
Mandragora
Goblin Hunter
Boring Weevil
Lemur
Faerie Funguar
Giant Gnat
Ziz Gorlin
Gall Gnat
Overgrown Ivy
Boar Poacher
Raptor Poacher
Wolf Poacher
Wild Boar
Black Bat
Diseased Treant
Jumping Djigga
Glowfly
Sylvan Groan
Sylvan Scream
Sylvan Sough
Molted Ziz
Ochu
Morbol
Sylvan Screech
Sylvan Sigh
Sylvan Snarl
3rd Cohort Eques
3rd Cohort Hoplomachus
3rd Cohort Laquearius
3rd Cohort Signifer
3rd Cohort Secutor
Sylpheed Screech
Sylpheed Sigh
Sylpheed Snarl
Dreamtoad
Sylphlands Condor
Sylphlands Sentinel
Sylph Bonnet
Milkroot Sapling
Milkroot Cluster
Violet Screech
Violet Sigh
Violet Snarl
Stinging Sophie (B-Rank Elite Mark)
Melt (A-Rank Elite Mark)
Wulgaru (S-Rank Elite Mark)

This section about a location in Final Fantasy XIV is empty or needs to be expanded. You can help the Final Fantasy Wiki by expanding it.
Community content is available under
CC-BY-SA
unless otherwise noted.