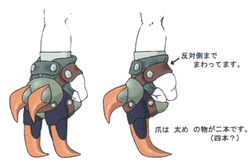 Wrought from bestial fangs, these claws look as grotesque as one would imagine.

Final Fantasy All the Bravest description
Duel Claws (デュエルクロー, Dyueru Kurō?) is a recurring Knuckle in the series.
Appearances
Weapon once used by a legendary hero.

Description
Duel Claws is the second strongest weapon for Amarant, providing 79 Attack and inflicts Berserk when attacking with it while equipped with the Add Status ability. It teaches the abilities Aura, No Mercy, and Counter, and can be synthesized for 16,000 gil, Dragon Claws, and Tiger Fangs at Black Mage Village or stolen from Deathguise.
Duel Claws is a high-ranked claw that provides 73 Attack Power, 20 Hit Rate, and +3 Attack.
Duel Claws is a weapon that provides +6 Attack and can be equipped by Monk, Tifa, Red XIII, Snow, and Chocobo.
Gallery
Community content is available under
CC-BY-SA
unless otherwise noted.