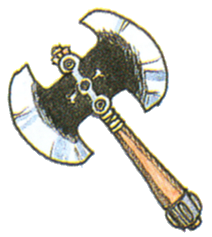 Dual Haken (ダブルハーケン, Daburuhaaken?), also known as GreatAxe, is a recurring weapon in the series. It is usually one of the more powerful axes in the games that it appears in, providing high attack power.
Appearances
Edit
Dual Haken is the second strongest axe in the 3D remakes, and the strongest in the NES version. It provides 122 Attack (75 on the NES) and +3 Strength, and can be found in the Ancients' Maze or bought on the Invincible (NES version only). It can be equipped by the Onion Knight, Viking, and Warrior.
The Dual Haken is a weapon for Warriors. It is a possible reward from the quest
Lord Of The Whorl, and can otherwise be purchased with tokens obtained from the repeatable quest

Primal Focus.
Name
Type
iLv
Description
Equip
Patch
Materials
Crafting
Dual Haken
Marauder's Arm
90

Auto Attack: 51.52
Damage: 46
Delay: 3.36
Magic Damage: 35
Strength: 31
Vitality: 35
Tenacity: 26
Direct Hit Rate: 37

MRD WAR 50
2.1
The Double Axe is a Strength-raising Artifact that increases Strength by 1. It can be found on the River Belle Path during the first cycle.
Dual Haken is a level 90 axe that provides +65 Attack, -70 Bravery, and Wall Rush HP Damage +15%. It can be obtained from the shop by trading 182,800 gil, Rune Axe, Catoblepas Eye, and Stalwart's Dream x5.
Etymology
Edit
The Double Harken (Double Sickle in the Force Five English dub) was the signature weapon of the mecha Grendizer in the anime UFO Robot Grendizer.
Community content is available under
CC-BY-SA
unless otherwise noted.