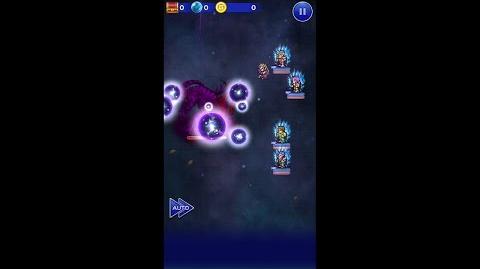 Dreary Cell (メランコリアの檻, Merankoria no Ori?, lit. Cage of Melancholia) is a recurring ability in the series. It is used exclusively by Emperor Mateus.
Appearances
Edit
Although it was not named nor an actual ability during gameplay, a similar attack is used in the opening, where the Emperor uses it against Terra Branford. It also appears in the story mode, where he uses it against Firion and traps him during their battle, with the explosion being powerful enough to temporarily stun Firion.
Dreary Cell is a magic HP attack for the Emperor, learned at level 13 for the ground version and level 30 for the aerial version. Both require 30 CP to equip (15 when mastered), 130 AP to master, have Unblockable priority, and have the Absorb effect. The Emperor creates a spark of light in the ground that expands into a crest of energy and surrounds opponent with exploding mines when they come close enough.
Dreary Cell is an ability for the Emperor. A variant appeared in his announcement trailer, but instead of the Emperor activating the trap directly, he remotely activated it via his scepter, telekinetically placing a rune on the battlefield to cause the orbs to explode.
In the story mode the Emperor uses Dreary Cell in an ambush against Zidane Tribal and Terra Branford after the latter party warped to Midgar while trying to find a summon. They dodge the attack at the last minute. The Emperor later attempts to use the attack on Zidane and Onion Knight while they are busy trying to fight Exdeath (with the latter warping out just beforehand). His attack is interrupted by Firion firing an arrow from behind, forcing him to dodge.
Dreary Cell is an ability for Emperor Mateus. When using the move, Emperor Mateus teleports upward as the screen turns dark. He then appears slightly above both the party and the enemy they are facing and proceeds to fire a sparkling energy ball towards the enemy in a wave. Then a massive purple rune appears and summons several orbs, which then closes in on the enemy, each contact dealing significant damage before causing a massive explosion as Mateus teleports back to the ground and rejoins the party, as well as leaving behind splash damage that gradually accumulates.
Community content is available under
CC-BY-SA
unless otherwise noted.