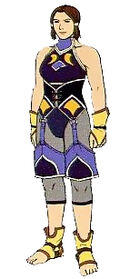 You know where to find me if you want me to...play with you.

Released from contract
Doram is a blitzball player for the Luca Goers. Like most of the Goers team, she starts out strong early on, but declines in the mid to late stages, making her a weak choice for a team in later stages of the game.
Stats
[
]
Location
Luca Harbor, Number 3 Dock
Key Techniques
Nap Tackle
Volley Shot
Wither Tackle
Stats
[
]
| LV | 1 | 5 | 10 | 15 | 20 | 25 | 30 | 35 | 40 | 45 | 50 | 60 | 70 | 80 | 90 | 99 |
| --- | --- | --- | --- | --- | --- | --- | --- | --- | --- | --- | --- | --- | --- | --- | --- | --- |
| HP | 142 | 312 | 542 | 792 | 1,062 | 1,352 | 1,662 | 1,992 | 2,342 | 2,712 | 3,102 | 3,942 | 4,862 | 5,862 | 6,942 | 7,982 |
| SP | 60 | 60 | 60 | 60 | 60 | 60 | 60 | 60 | 60 | 60 | 60 | 60 | 60 | 60 | 60 | 60 |
| EN | 3 | 4 | 6 | 7 | 9 | 10 | 12 | 13 | 15 | 16 | 18 | 21 | 24 | 27 | 30 | 32 |
| AT | 9 | 11 | 14 | 17 | 19 | 22 | 24 | 26 | 28 | 29 | 31 | 34 | 36 | 37 | 38 | 38 |
| PA | 7 | 9 | 12 | 15 | 18 | 20 | 23 | 25 | 27 | 29 | 31 | 34 | 37 | 39 | 41 | 42 |
| BL | 5 | 8 | 11 | 14 | 17 | 19 | 22 | 24 | 26 | 28 | 29 | 32 | 34 | 36 | 36 | 36 |
| SH | 1 | 2 | 3 | 4 | 5 | 6 | 7 | 8 | 9 | 10 | 11 | 13 | 15 | 17 | 19 | 20 |
| CA | 1 | 2 | 3 | 4 | 5 | 6 | 7 | 8 | 9 | 10 | 11 | 13 | 15 | 17 | 19 | 20 |
See also
[
]