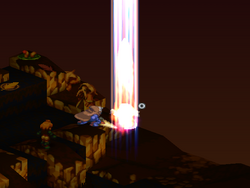 Heaven's wish to destroy all minds... Holy Explosion!

Quote upon using the ability in Final Fantasy Tactics (PS)
Divine Ruination (聖光爆裂破, Seikou Bakuretsu Ha?, lit. Holy Light Explosive Break), also known as Holy Explosion, is a recurring ability in the series.
Appearances
Edit
Those who dwell aloft have spoken. Let their words echo in your empty soul. Ruination is come!

Activation quote.
Divine Ruination is used by both
Agrias
and
The Thunder God
's Ephemeral Knights in
The Orbonne Monastery
. In both boss fights, players will be tethered to the boss/add, then damaged (and inflicted with Magic Vulnerability Up in The Thunder God's fight). Anyone who is directly between the tethered player and enemy will also be damaged. In Agrias's case, the damage can be avoided if the player has the Heavenly Shield buff.
Channel holy energy through sword to inflict damage.

Description
Divine Ruination is an ability of the Holy Knight and Sword Saint classes, learned for 800 JP. It has a range of 4 spaces ahead of the user, a speed of 5 (2 for vertical), activates immediately upon using, and inflicts Holy-elemental damage and Confuse to enemies within the attack's range.
Unleash cruciform light to deal damage and begin regenerating HP if the attack hits.

Description
Community content is available under
CC-BY-SA
unless otherwise noted.