The story of Dissidia Final Fantasy Opera Omnia follows an ancient moogle, named Mog, evoked by the crystals whose mission is to end with the collapse of time and space provoked by some mysterious dimensional distortions. With the help of champions from other worlds, this moogle collects "Light" to bring back the equilibrium before the world gets destroyed.
Introduction
Edit
Darkness converges upon us, and the world crumbles before our very eyes...
What was once a sanctuary for the weary has now become a battlefield.

Long ago, two deities— Genesis of Destruction Spiritus and Imperious Tutelar Materia—took up the mantle of the old gods.
They warped the fabric of time and space to create a new world—a world they populated with warriors from other realms.
In the name of the gods these men and women were forced to fight day and night without reprieve.
The strain of such hard-fought battle, however, soon grew to be too great.
Their battered bodies failing them, their shattered spirits sent out a cry for help.
Their peals were answered. The crystal, heeding their call, demanded the gods give them respite.
And thus this world, where these warriors could finally rest, was brought into existence.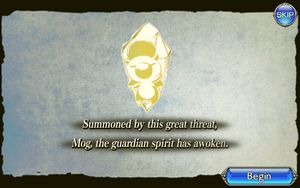 Only...
Not long after its creation, the Torsions began to appear.
It was from their gaping maws that an army of terrible fiends surged forth, plunging our lands into chaos.
If nothing is done, soon the neighboring realms, too, will begin to feel the effects of the impending darkness.
Summoned by this great threat, Mog, the guardian spirit has awoken.
He has taken a vow to help gather heroes capable of delivering us from destruction.
There is, however, little time. Torsions are appearing at a faster rate and threaten to unravel the very fabric of the universe itself.
If left unchecked, soon there may be nothing left to save. ...So we turn to you.

Your will to protect the world will give our heroes strength when they need it most.

Your words will give their swords direction.

And your heart will give us the guidance we need to uncover the truth.

Now go forth, friend, and trust in yourself as the light trusts in you.
—Introduction of Opera Omnia
Story Arc 1: Suspicious MoogleEdit

This article or section is a stub in Dissidia Final Fantasy Opera Omnia. You can help the Final Fantasy Wiki by expanding it.

This article or section is a stub in Dissidia Final Fantasy Opera Omnia. You can help the Final Fantasy Wiki by expanding it.
References
Edit
Community content is available under
CC-BY-SA
unless otherwise noted.