Barret
:
There's no gettin' off this train we on 'till we reach the end of the line.
Dissidia Final Fantasy Opera Omnia is a free-to-play game in the Dissidia Final Fantasy series for the iOS and Android platforms, co-developed by Square Enix and Team Ninja of Koei Tecmo, and published by Square Enix. The game released in Japan on February 1, 2017 and worldwide at the end of January 2018. While the battle system is more similar to a traditional JRPG than to a brawler, it features mechanics from previous Dissidia titles, such as BP and HP being separate forms of damage, Wall Crushes, and special team attacks delivered in the style of EX Bursts.
Opera Omnia follows with the missions-based gameplay of recent Square Enix mobile games. Players are encouraged to traverse a series of fixed maps in story mode, following the game's narrative while fighting baddies and collecting materials for the various cast members and their equipment. Players may also undertake series of rotating mission campaigns to collect new characters and other rare items, either solo or with the aid of their fellow players.
Battles for each mission occur in waves, requiring the player to plan in advance based upon the types of enemies to be encountered. From this, the player can assemble a party of three units, each possessing different attacks and skills, to complete each mission as efficiently as possible.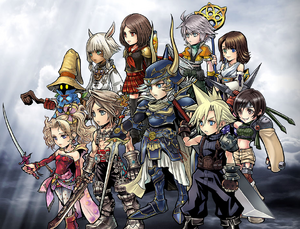 The following characters are available as of the Japanese release. Characters are recruited either through story chapters, time-limited events, or Lost Chapters which allow past event characters to be available permanently.
Your will to protect the world will give our heroes strength when they need it most.

Your words will give their swords direction.

And your heart will give us the guidance we need to uncover the truth.

Now go forth, friend, and trust in yourself as the light trusts in you.

Introduction
The events take place are complementary to those that transpire in the world of the Dissidia Final Fantasy NT since they share the same gods and the same crystals.
The world was created by Spiritus and Materia as a paradise where their champions could rest from the battles they clashed in the other world. However, one day time and space started to crumble as dimensional distortions, called Torsions, began to appear and several armies of monsters came out of them.
With the equilibrium endangered, the crystals summoned an ancient moogle, named Mog, from the past to help them recover the stability that was about to be lost for good. By gathering "light" with the help of the champions from varied worlds, Mog began an adventure to finish with the end of the world before it's too late.
The game's official unveiling was on August 27, 2016, with the initial trailer being shown during the game's special livestream event. It was revealed that the game would incorporate a turn-based combat system using the Bravery and Break system from the original fighting games. The game's announcement also mentioned to feature iconic characters from throughout the Final Fantasy franchise for players to choose from, including those who never appeared in the original titles, such as Vivi from Final Fantasy IX.
For the first time in the series, character designer Tetsuya Nomura would not handle the character designs for the game. The character designer was announced to be freelance artist Fubuki, who would draw chibi-variants of classic characters. [3]
The game was originally set to release in Japanese during the late quarter of 2016, however it was eventually delayed to be released on February 1st, 2017 instead.[4]
The release of the global version was announced on January 16, 2018. Players whom pre-followed Opera Omnia social media accounts received a gift at launch. The game was released globally on January 30, 2018.
On November 6, 2018, Opera Omnia announced its intent to withdraw from Belgium, citing a lack of clarity in the country's gaming laws, which currently forbid gambling without a license and do not provide guidance regarding loot crates or gacha as used in-game. This voluntary withdrawal occurred with the release of client 1.6.0 on December 19, 2018.
This section in Dissidia Final Fantasy Opera Omnia is empty or needs to be expanded. You can help the Final Fantasy Wiki by expanding it.
Note: All main voices are in Japanese. English voices were used in a collaboration, and are uncredited.
[view · edit · purge]Dissidia is the plural form of discidium, alternatively spelled dissidium, meaning "discord, disagreement". It is related to the verb dissidere, "to disagree"; this and related terms have given rise to words in various languages with similarly intended meaning (e.g. English dissident, Italian dissidio, Portuguese dissidente).
Opera omnia is a Latin phrase for "complete works".
Community content is available under
CC-BY-SA
unless otherwise noted.