'Dissidia Final Fantasy NT' – Launch Trailer
Dissidia Final Fantasy NT is a team-based fighting game developed by Team Ninja of Koei Tecmo and published by Square Enix and Taito. It was released as Dissidia Final Fantasy in Japan for arcades in November 2015, using modified PlayStation 4 hardware, though Square Enix noted it would not be considered until at least a year after the original release.[3] Later, an enhanced port was announced for PlayStation 4, now named Dissidia Final Fantasy NT, in June 2017, which then released in January 2018, and later released on Steam in March 2019. Tetsuya Nomura returned to design the characters, while Takeharu Ishimoto provided the score. The game is the third game released in the Dissidia Final Fantasy series, the first to be team-based, and the first not released for PlayStation Portable.
The last major update for the console version is scheduled for March 5, with the arcade version getting it on February 20. While updates for the game will cease, producer Ichiro Hazama confirmed that the online service will continue across all platforms.[4]
The original arcade release did not contain any story content until the "Battle of the Gods" DLC. The story centers around the conflict between the goddess Materia and the god Spiritus, who have summoned warriors to fight for them against the other.
The game is a three-versus-three based fighting game, in which battles take place in three dimensional stages based on locations from the Final Fantasy series. Players select characters from one of four different classes (Vanguard, Marksman, Assassin or Specialist) and pit them against the other team.
In November 2018, a free edition known as Dissidia Final Fantasy NT Free Edition was released for PlayStation Store in Japan.
Dissidia Final Fantasy NT is related to Dissidia Final Fantasy Opera Omnia, which tells an alternate story of the conflict between Spiritus and Materia.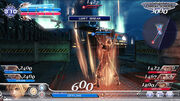 Compared to its predecessors, the game's battle system is remade from the ground up. The player is part of a team of three charcters, commanding one while the other two characters are AI controlled. A player can choose more than one of the same character on their team, and one-on-one combat is still available.
Playable characters are divided into four combat categories to identify that character's personal fighting style: the power-orientated Vanguards focus on dealing the highest damage and are the designated tanks of the team; agility-based Assassins have fast mobility or very high attack speed; the ranged Marksmen primarily attack from a distance; and the varied Specialists have unique battle traits. All fighting styles, bar the Specialists, adhere to a Rock–paper–scissors rule, with Assassins being strong against Marksmen, Marksmen being strong against Vanguards, and Vanguards being strong against Assassins.
The game retains some core elements from the previous Dissidia games. Characters can perform two kinds of attacks: Brave Attacks and HP Attacks. Brave Attack will decrease the opponent's Bravery stat and increase the attacking player's Bravery by the damage done. HP Attack will inflict damage equal to the player's current Bravery. Decreasing an opponent's Bravery to zero will result in a Bravery Break, giving the attacking player a substantial increase to their Bravery. Characters have seven Bravery attacks at a time: three ground attacks, three midair attacks, and one attack that can be performed while dashing. Each character can equip one HP attack. Some attacks that were HP Attacks in previous titles are now Bravery Attacks. Players cannot customize Brave Attacks and can customize only one HP Attack and two EX Skills. It is possible to save "battle sets" for characters: 1 HP Attack, 2 EX Skills and a costume.
Each character has an independent HP bar, and the party has one HP bar and a summon bar. When the player character is KO'd, one part of the team HP bar is erased. If the global HP bar depletes, the team loses. Double jumping returns, though some characters can now perform triple jumps, such as Lightning and Onion Knight. Dashing now uses up a stamina gauge, and can only be performed for a limited period of time, though the direction can now be changed by using the analog stick mid-air. Dodging is now a step, which has more invincibility frames than the original dodge.
The shield deteriorates slowly and blocks everything, but every time one blocks an attack, the shield starts to break. Shield deterioration is shown as color changes from green to orange to red. When someone is targeting a player, a blue link will appear above them and the enemy's head, and also on the minimap. When the opponent attacks, the blue link turns red to show when to dodge.
EX Mode returns, renamed "EX Skill," and encompasses up to three skills that a character can activate in battle. Some of these skills are based on the original Dissidia EX Modes, such as Terra entering Trance and Cloud entering a "Limit Break" state, while others have support effects, such as Regenga, which recovers the user's HP. EX Skills boost rely on the utility spells encountered in Final Fantasy games. For example, the ability to shield oneself or one's allies, the ability to heal or to use a break attack to destroy the enemy's defense. EX Skills and EX Bursts are available after some time and after using them, one must wait before they become available again. EX Bursts have been made weaker in comparison to the previous Dissidia games where they were often so powerful as to gain an instant win. EX Bursts are also weaker than summons.
Summoned monsters can be called by filling a Summon Gauge during battle by hitting the opponent or shattering crystal cores that appear sporadically, then charging the gauge it to call a summon. If all three members charge the gauge simultaneously, the summon sequence will instantly commence. Summons are auto-controlled allies that assist the player in battle directly, and change the battlefield's appearance (e.g. when summoning Ifrit the arena is engulfed in an aura of fire). The effect disappears as the summon is dismissed after 30 seconds. If the player is hit while channeling a summon, the summoning will be interrupted.
Character customization enables players to swap out colors for each character attire, and also the weapons wielded by them.
The console launch version had fourteen arenas, one from each of the main series. An additional four stages were added through updates.
Each stage features a change in atmosphere after half the time during battle has passed or if either teams HP gauge are depleted by two-thirds. These changes reflect the events that took place within that location's original game, and represents when battles are reaching their climax.
Characters
Edit
Dissidia
is the plural form of
discidium
, alternatively spelled
dissidium
, meaning "discord, disagreement". It is related to the verb
dissidere
, "to disagree"; this and related terms have given rise to words in various languages with similarly intended meaning (e.g. English
dissident
, Italian
dissidio
, Portuguese
dissidente
).
The "NT" in Dissidia Final Fantasy NT began as simply taking character designer Tetsuya Nomura's initials in order to later find a meaning. "New Tale" was the decided result.[11] During the prior 30th anniversary livestream, the additional meanings of "New Trial" and "New Tournament" were given alongside this. "New Tale" may refer to the story being about the fight between Materia and Spiritus, instead of Cosmos and Chaos, while "New Trial" and "New Tournament" might just refer to it being a reboot.
Coincidentally, it could also stand for "Ninja Team", referencing the partnership between Square Enix and Team Ninja for this game.
Kingdom Hearts III has a large display in Galaxy Toys 2nd Main Floor section of the Toy Box for Dissidia NT. It also has large figures of Odin, Ifrit, and Bahamut on the display as well as boxes with other toys; Leviathan, Ramuh, and Alexander.
External links
Edit
References
Edit
Community content is available under
CC-BY-SA
unless otherwise noted.