m

Line 29:
Line 29:
 

*[[Machinist (Final Fantasy XIV)|Machinist]]{{foot|Released with ''Heavensward''}} – devastates foes with customizable firearms and relentless autoturrets.

 

*[[Machinist (Final Fantasy XIV)|Machinist]]{{foot|Released with ''Heavensward''}} – devastates foes with customizable firearms and relentless autoturrets.

 

*[[Samurai (Final Fantasy XIV)|Samurai]]{{foot|Released with ''Stormblood''}} – throws quick slashes and precise strikes with the katana.

 

*[[Samurai (Final Fantasy XIV)|Samurai]]{{foot|Released with ''Stormblood''}} – throws quick slashes and precise strikes with the katana.

 
+

*[[Gunbreaker]]{{foot|Released with ''Shadowbringers''}} – uses well-timed attacks with a Gunblade.

 
+

*[[Dancer (Final Fantasy XIV)|Dancer]]{{foot|Released with ''Shadowbringers''}} – dances to both support allies and debilitate foes with dual chakram.

 
 
 

==Disciples of Magic==

 

==Disciples of Magic==

Line 45:
Line 47:
 

*[[Astrologian (Final Fantasy XIV)|Astrologian]]{{foot|Released with ''Heavensward''}} – employs a star globe and divining deck that grant power over both allies' and enemies' fate.

 

*[[Astrologian (Final Fantasy XIV)|Astrologian]]{{foot|Released with ''Heavensward''}} – employs a star globe and divining deck that grant power over both allies' and enemies' fate.

 

*[[Red Mage (Final Fantasy XIV)|Red Mage]]{{foot|Released with ''Stormblood''}} – combines black and white magic with high-speed melee combos with rapiers in hand.

 

*[[Red Mage (Final Fantasy XIV)|Red Mage]]{{foot|Released with ''Stormblood''}} – combines black and white magic with high-speed melee combos with rapiers in hand.

 
+

*[[Blue Mage (Final Fantasy XIV)|Blue Mage]]{{foot|Released as a Limited Job}} – learns actions or abilities from enemies with a cane in hand. Needs to be level 50 with one other magic job to be unlocked.

 
 
 

==Disciples of the Land==

 

==Disciples of the Land==
---
Revision as of 21:41, 30 June 2019
Disciplines are the foundation of the Armory System in Final Fantasy XIV. There are four different base disciplines: War, Magic, Land, and Hand. Each different discipline can divide into several classes. The current weapon or tool equipped defines what class the player character is, with each specific class having different weapons they use.
In addition to the base disciplines, each job fills one of five roles: DPS, tank, healer, gatherer and crafter. The former three are used for quests which involve combat and duties, while the latter two are for Gathering and Synthesis respectively.
Each of the Disciplines of War and Magic classes also has one or more associated jobs which can be unlocked by leveling the appropriate disciplines and completing the appropriate quests. Equipping a job grants improved stats, and access to powerful, specialized abilities and equipment. Not all jobs have base classes, though all begin at either level 30 or 50.
Disciples of War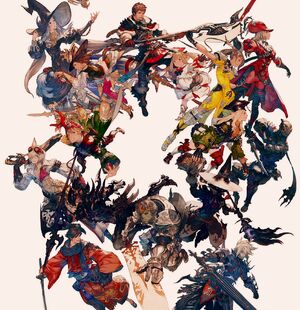 The Disciplines of War are disciplines revolving around physical combat.
Classes
Jobs
Disciples of Magic
The Disciplines of Magic specialize in using magic for combat rather than physical attacks.
Classes
Jobs
Disciples of the Land
The Disciplines of the Land use tools in order to carve materials from the earth for use in crafting.
Fisher – uses a fishing rod and fishing gig to catch and spear fish and other marine items from rivers, lakes, and seas.
Miner – uses a pickaxe and sledgehammer to mine minerals from the earth.
Disciples of the Hand
The Disciplines of the Hand use basic materials found on monsters or by Disciples of Land in order to create new objects.
Other appearances
All of the Disciplines appear on cards.
Gallery
Trivia
Community content is available under
CC-BY-SA
unless otherwise noted.