Disciplines are the foundation of the Armory System in Final Fantasy XIV. There are four different base disciplines: War, Magic, Land, and Hand. Each different discipline can divide into several classes. The current weapon or tool equipped defines what class the player character is, with each specific class having different weapons they use.
In addition to the base disciplines, each job fills one of five roles: DPS (which is further divided into melee, physical ranged and magic ranged), tank, healer, gatherer and crafter. The former three are used for quests which involve combat and duties, while the latter two are for Gathering and Synthesis respectively.
Each of the Disciplines of War and Magic classes also has one or more associated jobs which can be unlocked by leveling the appropriate disciplines and completing the appropriate quests. Equipping a job grants improved stats, and access to powerful, specialized abilities and equipment. Jobs that were not available in A Realm Reborn do not have a base class, instead being unlocked at an increased level (except Blue Mage, which starts at 1 due to having vastly different gameplay from other jobs).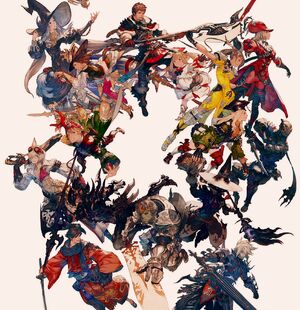 The Disciplines of War are disciplines revolving around physical combat.
Bard – inspires their comrades with songs, and showers damage-over-time actions to enemies. Upgraded from Archer
Paladin – charges fearlessly into battle, while defending allies with his holy shield and sacred oaths. Upgraded from Gladiator
Dragoon – strikes foes from above using the power of the dragons. Upgraded from Lancer
Warrior – channels their inner-beasts to bring unbridled savagery on the battlefield. Upgraded from Marauder
Monk – utilizes meditation and forbidden chakra to improve mobility and damaging capability. Upgraded from Pugilist
Ninja* - incorporates Released with Patch 2.4Far Eastern skills through the weaving of signs, unleashing a wide array of attacks against their foes. Upgraded from Rogue
Dark Knight*Heavensward – defends the downtrodden with greatswords and Released with dark magic.
Machinist*Heavensward – devastates foes with firearms and a wide array of devices. Released with
Samurai*Stormblood – throws quick slashes and precise strikes with the katana. Released with
Gunbreaker*Shadowbringers – uses well-timed attacks with a gunblade. Released with
Dancer*Shadowbringers – dances to both support allies and debilitate foes with dual chakram. Released with
The Disciplines of Magic specialize in using magic for combat rather than physical attacks.
The Disciplines of the Land use tools in order to carve materials from the earth for use in crafting.
Fisher – uses a fishing rod and fishing gig to catch and spear fish and other marine items from rivers, lakes, and seas.
Botanist – uses a hatchet and scythe to harvest materials from trees and other flora.
Miner – uses a pickaxe and sledgehammer to mine minerals from the earth.
The Disciplines of the Hand use basic materials found on monsters or by Disciples of Land in order to create new objects.
All of the Disciplines appear on cards.
Community content is available under
CC-BY-SA
unless otherwise noted.