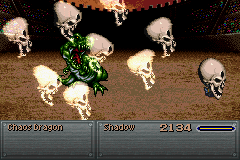 Disaster (ディスアスター or ディザスター, Disuasutā or Dizasutā?) is a recurring ability in the series. Generally used by powerful enemies, it inflicts a variety of status effects on the player party, and has been associated as the special ability of Brachioraidos.
Appearances
[
]
Disaster is an enemy ability used by Brachiosaur, Chaos Dragon, Abaddon, Skull Dragon, Kaiser Dragon, and Glutturn (X-Ether). It inflicts darkness, imp, doom, silence, confuse, and float to one or all targets at the cost of 20 MP with a hit rate of 62. It can be absorbed by using Runic.
Disaster inflicts Debrave, Defaith, Deprotect, Deshell, and Curse and deals magic damage to one enemy. It has an ATB cost of 100 and a duration of 10.
Disaster is an enemy ability used by Ouroboros which inflicts major non-elemental magic damage to the party.
Gallery
[
]
Etymology
[
]
A disaster is a serious disruption of the functioning of a community or a society involving widespread human, material, economic or environmental losses and impacts, which exceeds the ability of the affected community or society to cope using its own resources.