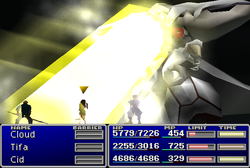 Diamond Flash (ダイヤフラッシュ, Daiya Furasshu?) is a recurring ability in the series. It is an ability used exclusively by Diamond Weapon.
Appearances
[
]
Diamond Flash is an enemy ability used by Diamond Weapon, which inflicts damage equal to 87.5% of the target's current HP and inflicts Silence on one or all party members.
Gallery
[
]
Etymology
[
]
[view · edit · purge]In mineralogy, diamond is a metastable allotrope of carbon, where the carbon atoms are arranged in a variation of the face-centered cubic crystal structure called a diamond lattice. Diamond is the birthstone for April.
[view · edit · purge]A flash is a device used in photography producing a flash of artificial light (typically 1/1000 to 1/200 of a second) at a color temperature of about 5500 K (Kelvin) to help illuminate a scene. A major purpose of a flash is to illuminate a dark scene. Other uses are capturing quickly moving objects or changing the quality of light. Flash refers either to the flash of light itself or to the electronic flash unit discharging the light.