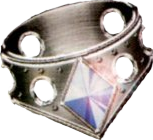 Diamond Bangle (ダイヤバングル or ダイアバングル, Daiya Banguru?) is a recurring armor and accessory in the series.
Appearances
[
]
Diamond Bangle is a mid-ranked armor that provides 57 Defense, 6 Def%, 37 Magic Defense, as well as one unlinked and two linked materia slots with normal growth. It can be bought for 3,200 gil at Bone Village.
Diamond Bangle is an armor for Lulu, which can be obtained if the dominant abilities on any bangle are all four Defense +% abilities.
Diamond Bangle is an accessory that grants a maximum HP bonus of between 500 and 1000, depending on it's level, and upgrades to the Adamant Bangle by using the Adamantite item. It can be upgraded from the Platinum Bangle by using the Scarletite item. Diamond Bangles are rewarded to the party when the missions 26 - So Shrill, the Cry and 38 - Moonlit Madness are completed.
Diamond Bangle provides HP +80% to the wearer. It can be bought for 10,000 gil from the Armory after completing Protecting the Defector on Finis difficulty, or obtained as reward for the task Monster Pursuit VII.
Diamond Bangle is an accessory that provides 5 Defense, 6 Magic Defense, 6 Magic Evade, and immunity to Mini and Toad.
Gallery
[
]
Etymology
[
]
[view · edit · purge]In mineralogy, diamond is a metastable allotrope of carbon, where the carbon atoms are arranged in a variation of the face-centered cubic crystal structure called a diamond lattice. Diamond is the birthstone for April.