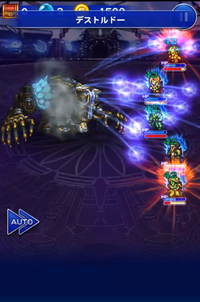 Destrudo (デストルドー, Desutorudō?) is a recurring ability in the series. It is an ability used exclusively by Barthandelus.
Appearances
[
]
Destrudo is an enemy ability used in the first encounter with Barthandelus, which inflicts major non-elemental magic damage to the party. The damage this attack deals can be severely mitigated if Barthandelus is damaged enough before he fully charges for the move. This is a key component of the Destrudo Dodge, a tactic commonly used in challenge runs.
Gallery
[
]
Etymology
[
]
Destrudo is a term introduced by Italian psychoanalyst Edoardo Weiss in 1935 to denote the energy of the death instinct, on the analogy of libido—and thus to cover the energy of the destructive impulse in Freudian psychology.