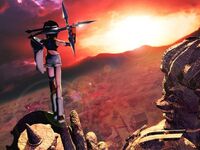 "Descendant of Shinobi" from Final Fantasy VII
"Descendant of Shinobi" (忍びの末裔, Shinobi no Matsuei?), also known as "Yuffie's Theme", is the theme of Yuffie Kisaragi in Final Fantasy VII.
Game appearances
"Descendant of Shinobi" plays upon first meeting up with Yuffie after battling the Mystery Ninja, as well as in many other scenes involving her.
"Descendant of Shinobi" also plays in an old Squaresoft promotional disc in the menu where the player can select to play various demos, including the one for Final Fantasy VII.
A slightly jazzier version of "Descendant of Shinobi" is available for playing on the game's jukeboxes as track 23. It is found in Chapter 14: "In Search of Hope" in the Sector 5 Slums by Johnny.
Compilation album appearances
The theme has been released on "the best of" type album, Final Fantasy VII: Reunion Tracks.
Arrangement album appearances
A piano arrangement of the theme performed by Seiji Honda is included on this album.
A vocal arrangement of the theme is included on this album, called ("雨上がり、散歩道", Ameagari, sanpomichi?, lit. A Walk After the Rain).
Japanese Rōmaji
Ame ga agatta asa ni wa
Sukoshi dake hayaoki shite
Shizuku ga kirameku kono michi o
Kimi ni misetakute mukae ni yuku
Sukoshi nemusou na kimi to
Arukihajimeta sakamichi
Me ga au to sugu ni shita muite
Dou shite ii no ka wakarazu ni damaru
Hajimatta bakari no
Watashitachi no koi wa
Madamada kakko warukute
Hito ni hanasenai
Sukoshi fukurettsura no
Watashi ni kizuite ka
Kimi ga sashidashita migite
Nigiri arukidasu
Futari no hohaba ga awazu
Tama ni oitsukenaku naru
Mada katta bakari no kutsu da kara
Ashi ni awanakute nigawarai
Mizutamari ni utsuru sora
Watagumo ga kiete yuku ne
Konna odayaka na hirusagari
Kimi to deawanakya shiranakatta
Kitto
Tsunaida kimi no te ga
Totemo atatakakute
Zutto hanashitakunakute
Sukoshi toomawari
Tokubetsu na kotoba wa
Mada hitsuyou ja nai
Ima wa tonari de hohoemu
Kimi ga ireba ii
English translation
Mornings after the rain
I wake up a little early
This town glitters with raindrops
I set out, wanting to show it to you
I set out walking on the hill
With you, looking a little sleepy
Our eyes meet and we look down
Not knowing what to do, we stay quiet
It had just begun
This love of ours
Still a little embarrassing
Nothing to tell anyone about
Did you happen to notice me
Pouting a little?
I take the right hand you offer
And walk on
Our footsteps are out of sync
Sometimes I can't keep up
It's these brand-new shoes
They don't fit me right, and I smile wryly
The sky reflected in a puddle
The cottony clouds are fading away
I'd never have known such quiet mid-afternoons
If I hadn't met you
I'm sure of it
The hand I held
Was so warm
And not wanting to talk at all
I kind of took the long way
We still don't need
Special words
Right now it's good enough
To have you smiling beside me
Community content is available under
CC-BY-SA
unless otherwise noted.