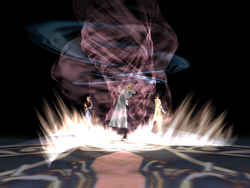 Demon Slice (鬼斬り, Oni Giri?, lit. Ogre Cutter) is a recurring ability in the series. It is a Limit Break for Seifer Almasy.
Appearances
Edit
Demon Slice is a Limit Break for Seifer, only used during the battle with just Seifer at Galbadia Garden. It inflicts non-elemental physical damage to one target, and incidentally Seifer likes to target Squall the most often with this attack.
Etymology
Edit
[view · edit · purge]A demon is "an evil spirit or devil, especially one thought to possess a person or act as a tormentor in hell."
[view · edit · purge]Oni is the kun'yomi rendering of the Chinese interpretation of an ogre called the "guǐ" (gu-ay). They are a kind of yōkai from Japanese folklore, variously translated as demons, devils, ogres or trolls. In a Chinese context it may refer to a ghost as well.