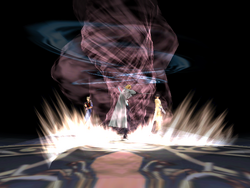 Demon Slice (鬼斬り, Oni Kiri?, lit. Demon Slice/Ogre Cutter) is a recurring ability in the series. It is a Limit Break for Seifer Almasy.
Appearances
[
]
Demon Slice is a Limit Break for Seifer, only used when he is faced as a boss at Galbadia Garden. It inflicts non-elemental physical damage to one target, and incidentally Seifer likes to target Squall the most often with this attack.
Demon Slice is a level 10 Gunbreaker weaponskill. The ability delivers an attack to all nearby enemies with a potency of 150. It has an instant cast time and a default recast time of 2.5 seconds.
Like other Gunbreaker actions, Demon Slice borrows its name from Seifer's Limit Break from Final Fantasy VIII. In addition, the Japanese name of the skill is a reverse localization of the ability's English name and uses the katakana name of Demon Slice (デーモンスライス, Dēmon Suraisu?), as opposed to the original Japanese name of the skill used in Final Fantasy VIII.
Demon Slice is a skill used by Seifer as an enemy.
His EX Ability as a playable character is an enhanced version called Demon Slice X, able to inflict a framed debuff known as Scar of Destruction that for 1 turn, prevents the afflicted target from gaining any BRV from BRV damage. Seifer himself however, instead grants himself the Young Revolutionary buff that increases his attack and BRV damage inflicted per debuff on any enemy targets.
Gallery
[
]
Etymology
[
]
[view · edit · purge]A demon is "an evil spirit or devil, especially one thought to possess a person or act as a tormentor in hell".
[view · edit · purge]Oni (鬼?) is the kun'yomi rendering of the Chinese interpretation of an ogre called the "guǐ" (gu-ay). They are a kind of yōkai from Japanese folklore, variously translated as demons, devils, ogres or trolls. In a Chinese context it may refer to a ghost as well.