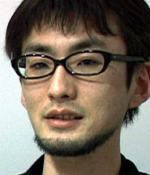 Born on March 11, 1974, in Yokohama, Daisuke Watanabe (渡辺 大祐, Watanabe Daisuke?) is a scenario writer for Square Enix. Along with fellow scenario writer Kazushige Nojima, he has written the scenario for Final Fantasy X-2, and later worked on the scenarios of Final Fantasy XII and Final Fantasy XIII.
Profile
[
]
Watanabe's first work in the Final Fantasy series was on Final Fantasy X. He co-wrote the scenario with Nojima, Motomu Toriyama and Yoshinori Kitase.[1][2]
While not being initially part of the development of Final Fantasy XII, he joined the game's writing staff in November 2004.[3] The original scenario writer Yasumi Matsuno left that project in August 2005 due to sickness.[4] Jun Akiyama was put in charge of the game's story when Matsuno left. Working under Akiyama's direction, part of Watanabe's job was fleshing out what had been written by Miwa Shoda, who had also joined the writing staff alongside him.[5] Watanabe wished to create a story where there were no heroes or villains as such, instead being different interpretations of events.[6] Due to production deadlines, many of Akiyama's and Watanabe's ideas had to be dropped from the script, much to the regret of co-director Hiroshi Minagawa.[7]
Regarding Final Fantasy XIII, Watanabe was brought in after the central core of the narrative was created, including the game's mythos, but Watanabe was left to flesh out much of the detail after Toriyama gave him a rough outline of events.[8][9] For Final Fantasy XIII-2, Watanabe had scenario input from Emi Nagashima, better known under her pen name Jun Eishima.[10] He resumed his role for Lightning Returns: Final Fantasy XIII, receiving input from multiple staff members including Toriyama. His writing for the project was slow, causing problems for the rest of the development team: this prompted him to work extra hard on creating a suitable finale. Speaking after the release of the game, he stated that the Final Fantasy XIII trilogy was his most exhausting project, and that his feelings were "complicated".[9]
Works within the series
[
]
External links
[
]
References
[
]