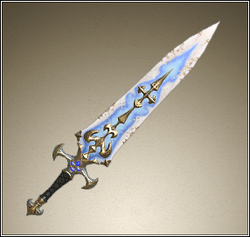 Curtana (カーテナ or コルタナ, Kātena?) is a recurring weapon in the series.
Curtana is a sword that provides 1 damage, 236 delay, and CHR +7. It deals 0.25 damage per second and accumulates 63 TP per hit. It can be equipped by level 75 Thief. It can be obtained from examining the ??? that spawns in the small rooms throughout Ve'Lugannon Palace every 2 hours. The ??? will despawn and move to a different spawn point if left alone for an 3 hours.
The Curtana is the Relic Weapon for paladins. The Unfinished Curtana is acquired and upgraded to the Curtana in the quest
Relic Reborn (Curtana), which also grants the Holy Shield, and the pair are then upgraded through the Zenith, Atma, Animus, Novus, and Nexus levels the ensuing questchain before being replaced by the Excalibur Aegis Shield. The much stronger Curtana Ultima can later be purchased alongside the Holy Shield Ultima in Rhalgr's Reach using tokens received from the Weapon's Refrain (Ultimate).
Curtana Novus and Curtana Nexus's secondary stats are determined by what the player chose to imbue in their Curtana in the process of upgrading it to Curtana Novus, and can be redone by acquiring and imbuing a new Sphere Scroll: Curtana from Hubairtin in Central Thanalan and presenting it to Jalzahn Daemir in the North Shroud.
The weaker Curtana Replica and replicas of its Unfinished, Zenith, Atma, Animus, Novus, and Nexus variants are also available for glamour purposes to characters who have completed the Excalibur and Aegis Shield Zeta.
Curtana

PLD Lv. 50

Item Level 80

Physical Damage: 44
Auto-attack: 34.02
Delay: 2.32
One of the fabled relic weapons.


Strength +19
Vitality +21
Direct Hit Rate +23
Tenacity +16


Repair/Melding Discpline: Goldsmith
Dyeable: No
Unique
Untradeable

This section about equipment in Final Fantasy Airborne Brigade is empty or needs to be expanded. You can help the Final Fantasy Wiki by expanding it.
Weapon
Category
Level
Attack
Magic
Mind
Curtana (XIV)

Swords
1
96
0
0
20
131
0
0
30
148
0
0
35
157
0
0
Additional stats: Accuracy +95
Bonus effects when equipped: Adds small boost to holy damage.
Burst Soul Break: The Echo (Minfilia), ATK +10 when mastered

This section about equipment in Mobius Final Fantasy is empty or needs to be expanded. You can help the Final Fantasy Wiki by expanding it.
This gallery is incomplete and requires Final Fantasy XI added. You can help the Final Fantasy Wiki by uploading images.
[view · edit · purge]The Curtana is a short, blunted sword used for ceremonial purposes, such as to confer knighthood. The name is a Latinized form of the Anglo-French curtein, from Latin curtus, 'shortened'.
Community content is available under
CC-BY-SA
unless otherwise noted.