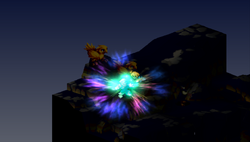 Inflict damage with a sinister sword.

Final Fantasy Tactics description
Crushing Blow (ウエポンバッシュ, Wepon Basshu?, lit. Weapon Bash), also known as Weapon Bash, is a recurring ability in the series. It is an ability most often used by the Dark Knight class.
Appearances
Edit
Weapon Bash is an ability for the Dark Knight (level 20). The ability can be used once every 3 minutes. When used, the Dark Knight will use their weapon to strike the enemy. It does a small amount of Blunt damage; however, its true application is its ability to Stun a creature and interrupt a special ability activation or spell casting. Since an update in 2007, the chance of Stun being inflicted is near 100%. This ability creates a large amount of enmity.
Crushing Blow is an ability learned by the Dark Knight class in The War of the Lions versions for 300 JP. It inflicts Dark-elemental damage and Stop to one target within a range of 3.
The amount of damage done is as follows:
$ Physical Attack \times (Weapon strength + PWR) $
Community content is available under
CC-BY-SA
unless otherwise noted.