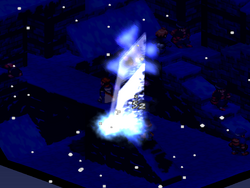 Destroy the target's equipped weapon.

Final Fantasy Tactics description
Crush Weapon (冥界恐叫打, Meikai Kyōkyōda?, lit. Hades Terror Scream Strike), also known as Hellcry Punch, is a recurring ability in the series.
Appearances
Edit
Honed is the blade that severs the villain's head. Endless is the path that leads him from hell.

The Thunder God
Crush Weapon is used by Rofocale and Argath Thadalfus in The Royal City of Rabanastre and The Thunder God in The Orbonne Monastery. In all three boss fights, a few players are repeatedly targeted for a circular AoE attack (in The Thunder God's case, players have a visual marker denoting them as the targets).
An attack by the same name may be used by Hien Rijin during the dungeon The Ghimlyt Dark, in order to destroy a Schola Colossus Rhubicatus before it can self-destruct. Hien covers his sword in red energy before swinging it down, causing a huge red blade to burst from the ground and hit the enemy.
Demolish weapons with fury! Hellcry Punch!

Activation quote (PSX)
Crush Weapon is an ability learned by the Divine Knight, Rune Knight, and Sword Saint classes for 500 JP. It destroys the target's weapon within a range of 3.
Community content is available under
CC-BY-SA
unless otherwise noted.