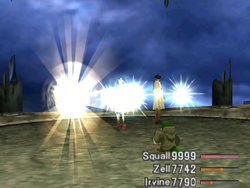 Drinking this tonic gives the imbiber temporary superhuman strength. Use caution; an overdose is fatal.
Crusader Tonic (聖戦の薬, Seisen no Kusuri?, lit. Holy War Medicine), also known as Holy War, is a recurring item in the series.
Appearances
[
]
Holy War is an item that grants Invincible status to the party. It can be dropped/mugged from Seifer (during the third and fourth boss fights), refined from Holy War-trial x10 into Holy War x1, and 10 are modded from the Gilgamesh card. Holy War x5 can be refined into Knight's Code x1. Holy War is one of the rarest items in the game.
Crusader Tonic is a loot that can be obtained from the missions "Sleepless Nights, "A Request", and "Foodstuffs: Aroma", and is required in creating the Onion Sword, Excalibur, Cleansing Staff, Nirvana, Materia Armor, and Orb of Minwu. It can be sold for 1,200 gil.
Gallery
[
]
Etymology
[
]
[view · edit · purge]The terms "Crusader" and "Jihad" are both associated with the historic "holy wars" fought between the Christian Europeans and Islamic Middle-Easterners for control of the holy land, the birthplace of Jesus Christ. "Crusader" (meaning "under the cross" because they were wearing a cross on their outfit) was a term used to describe the soldiers of the Crusades, the European term for the holy wars.