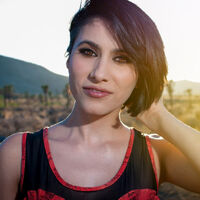 Cristina Vee, real name Cristina Valenzuela (born July 11, 1987 in Norwalk, California), is an American actress, singer, and voice actress. She voices Cinque in Final Fantasy Type-0 and various characters in Final Fantasy Crystal Chronicles: The Crystal Bearers.
Background
Edit
She is known for providing voices for Mio Akiyama (K-On!), Alisa Bosconovitch (Tekken: Blood Vengeance), Rei Hino/Sailor Mars (Sailor Moon), Cecilia and Wilbell (Atelier series), Compa (Hyperdimension Neptunia series), Kloe Rinz (The Legend of Heroes: Trails in the Sky), Nova (Tales of Xillia 2), Velvet Crowe (Tales of Berseria), and a lot more video game and anime characters.
External links
Edit
Community content is available under
CC-BY-SA
unless otherwise noted.