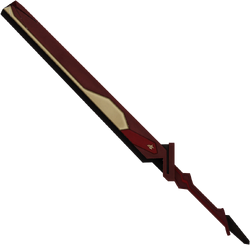 A sword bestowed upon the savior. Its blade was ruined by Lumina and its integrity and strength lost.

Lightning Returns: Final Fantasy XIII description
Crimson Blitz (クリムゾンブリッツ, Kurimuzon Burittsu?) is a recurring weapon in the series. It is a weapon associated with the Lightning Returns: Final Fantasy XIII appearance of Lightning.
Appearances
[
]
Crimson Blitz is the initial weapon for Lightning, which provides Strength +130, Magic +30, and ATB Speed +5. Its blade is broken in the opening.
Right before the final battle, Crimson Blitz can be upgraded to the Ultima Weapon by completing the Four Trials in God's Sanctum.
The Crimson Blitz is one of Lightning's unlockable weapons, and appears intact as it was during the opening of Lightning Returns: Final Fantasy XIII. It can be obtained either by random chance when redeeming a Treasure token, or by purchasing them from the Shop for 7,200 gil. Having it equipped carries no advantages or disadvantages.
In the Story Mode for the PlayStation 4 version, Lightning is seen wielding this weapon over her standard Blazefire Saber. This is likely due to the fact that when Lightning is summoned into World B by Materia, it was during the events of Lightning Returns: Final Fantasy XIII as opposed to her base game.
While not appearing as an equippable weapon, the Crimson Blitz appears as part of Lightning's Lightning Returns model.
Gallery
[
]
Etymology
[
]
[view · edit · purge]Blitz is a German word for "lightning". In English it is associated with quickness.