The leader of the Lucian Crownsguard. Otherwise known as 'the Immortal,' the general spends his days in service of Noctis's father, King Regis—just as when they journeyed together thirty years ago.[3]

Official description
Cor Leonis is a guest character in Final Fantasy XV who also appears in Episode Gladiolus DLC and in Final Fantasy XV: Comrades.
Cor is one of the best fighters in the Kingdom of Lucis. He is the Marshal (shōgun in the Japanese version) of the Crownsguard, the Lucian royal guard that protects the Citadel and Insomnia, and thus in turn the royal family. Before the events in Kingsglaive: Final Fantasy XV, Cor and the Crownsguard are reassigned to protect all crown citizens.
Throughout his life, Cor survived countless battles, earning him the moniker "Cor, The Immortal". He dedicates his life to serving Lucis.
Head of the Crownsguard and widely regarded as one of the three most powerful warriors in the Kingdom of Lucis. His unfailing ability to return from the brink of death has earned him the nickname "Cor the Immortal"—an appellation he particularly dislikes. On the eve of the signing ceremony, Regis tasked Cor with evacuating the citizens ahead of the imperial assault, knowing he could trust the marshal implicitly. After fleeing the ruins of Insomnia, he seeks out Noctis to share with him his late father's dying wishes.
Cor holds the distinct honor of having served three separate Lucian monarchs: Mors, Regis, and Noctis. While his loyalty to his lieges has never wavered, his attitude toward authority has evolved over the years. In the arrogance of his youth, he publicly criticized Regis's retreat from Accordo in the Great War, calling the then-crown prince and his men "a bunch of cowards." While Cor's Crownsguard colleagues were incensed by this show of impertinence, Regis was impressed with the young firebrand's willingness to speak truth to power and immediately hired him as a personal bodyguard. The marshal was so touched by this show of grace that he swore to devote his life to serving Regis and his son Noctis.
Profile
[
]
Appearance
[
]
Cor is a middle-aged man with short, brown hair. He has light blue eyes and wears a black, collared jacket with skull-shaped buttons. Cor wears a black, skull-print shirt, black trousers, and black boots with red soles.
Ten years later, the 55-year-old Cor wears the Kingsglaive attire and has a beard.
Personality
[
]
Now is not the time to question your calling. A king is sworn to protect his people.

Cor Leonis
Cor is a stubborn, stern, no-nonsense military man who has sworn loyalty to King Regis and his country. He was not afraid to oppose Regis's decisions in his youth, and an impressed Regis asked Cor to be his right-hand man. Cor is strict with Prince Noctis and his friends, and while he does not always see eye-to-eye with them, he is duty-bound to watch over them. He is calm when dealing with Noctis's wayward personality, offering him advice. When he was young, Cor was reckless and overconfident in his fighting skills.
He knows he isn't going to be with Noctis for long due to the orders from Regis as to the Crownsguard's new purpose, and warns him not to get too comfortable with having him around. Cor detests his moniker as the Immortal, likely seeing it as a reminder that he has outlived the bloodline he swore to protect.
Abilities
[
]
Cor is a prodigious swordsman who wields katanas and is widely viewed the kingdom's best fighter. He can synchronize linked attacks with Noctis and Gladiolus and outside of using his blade in combat, he also performs spinning kicks and throws shuriken. His profile in Final Fantasy XV: Comrades suggests Cor used to use magic, in saying "even after Regis's magic has faded, the marshal remains unmatched in combat." When challenging Gladiolus in the final trial, Cor manifests his sword out of thin air and can cloak himself with red energy to empower his attacks.
Cor is a trusted leader who trains others in the ways of the soldier. No longer trying to do everything alone, Cor directs those working under him to safeguard the citizens and to help Noctis ascend as the True King. He acted as Regis's driver, and can cook, his specialty being a samurai-style seafood honzen ryori.
Story
[
]
Gameplay
[
]
Guest party member
[
]
Cor joins as a guest party member in Chapter 2 for the first royal tomb, but leaves when the party enters Keycatrich Trench. He rejoins for the imperial blockade at the end of the chapter. In the Windows and Royal Editions, he joins a final time in Chapter 14 for the imperial outpost battles and the second phase against Cerberus if the player completed all sidequests in Insomnia. He again joins as a guest in Episode Gladiolus where he doesn't partake in boss battles. Cor is Level 52.
Cor fights with katana and deals heavy damage. His primary arm is Kotetsu and his secondary arm is Kikuichimonji. His accessories are Carbon Bangle, Niella Bracelet and Protective Amulet. His attire is Crownsguard Fatigues during Chapter 2 and Kingsglaive Fatigues during Chapter 14.
Cor's Technique, Lion's Roar, is a powerful upward drawn slash that cuts a vertical wide shockwave that moves in a line. It costs 1 tech bar.
Linked attacks
[
]
Cor can coordinate his attacks with Noctis when the player parries (called link-strike) and blindsides (called blindside link). Cor only links with Noctis in the main game. Linked attacks happen randomly when Cor is nearby and is not incapacitated or amid performing another action. Which linked attack the pair performs depends on what type of weapon the player is wielding. Linked attacks are especially powerful and commonly break enemies and put them into vulnerable state if the attack does not outright defeat them.
| Player's weapon | Type | Description |
| --- | --- | --- |
| Sword | Link-strike | Cor rushes up from behind to stab the enemy Noctis counterattacked. |
| Sword | Blindside | Cor jumps to attack Noctis's target, then yields his katana to Noctis who dual-wields his one-handed sword with Cor's katana while Cor observes. Noctis returns the katana to Cor. |
| Polearm | Link-strike | Cor attacks Noctis's target, after which Noctis throws his polearm at it like a javelin. |
| Polearm | Blindside | Noctis readies his spear while Cor readies his katana. They look at each other and nod, then charge in unison. |
| Greatsword | Link-strike | Cor and Noctis attack the enemy whose attack Noctis parried in unison. |
| Greatsword | Blindside | Noctis performs an uppercut with his greatsword, Cor comes in and deals numerous fast slices with his katana, and Noctis finishes with another big swing of his greatsword. |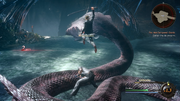 Gladiolus can perform blindside links with Cor in Episode Gladiolus. There are three blindside links, and the player can do them one after another, unlike in the main game. Linking five times earns the Master and Pupil achievement/trophy.
Gladiolus strikes an enemy with his greatsword and Cor climbs onto his back and does a jumping attack on the enemy with his katana.
Gladiolus strikes an enemy and Cor comes up from behind for a follow-up attack.
Gladiolus and Cor attack Gladiolus's target in unison, Cor doing a little somersault.
Weapons
[
]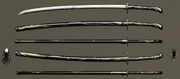 Like the other guest characters, Cor's equipment cannot be changed, but the player can view his gear from the menu.
Accessories
[
]
Attire
[
]
Boss
[
]
Cor is fought as the final trial in Episode Gladiolus. Defeating him yields a hidden trophy, Transcendence.
Recipe
[
]
Eat well to live well—that's my philosophy.

Cor
As of Final Fantasy XV: Comrades 1.2, Cor can guest-cook for the player a samurai styled seafood honzen ryori dish known as the Military Man's Banquet, which became available in the main game afterward. It is Gladiolus's favorite and boosts attack power and HP regeneration. As of patch 1.27, the dish is added to Final Fantasy XV even if the player has not played Comrades.
Other appearances
[
]
Cor appears as a playable character.

Cor is a character and summonable vision whose job is listed as Marshal. Cor's Trust Master reward is the Loyal Warrior special ability.
Non-Final Fantasy guest appearances

[

]
Lord of Vermilion IV

[

]
The Alchemist Code

[

]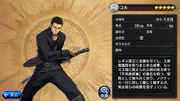 Cor appears as part of a Final Fantasy XV collaboration.

Minecraft

[

]
Behind the scenes
[
]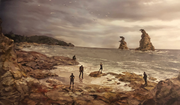 Cor was the fifth permanent party member in Final Fantasy Versus XIII. When Versus XIII became Final Fantasy XV during development, his role was reduced, becoming a mentor-like figure to the party. As a character, he remained relatively unchanged, aside from his position and presentation.[8]
Cor's clothes were designed by Hiromu Takahara, creative director of the fashion brand Roen. He was first shown in the Final Fantasy XV E3 2013 trailer, and was imagined as a tragic figure hinted in pre-release interview reveals to befall great misfortune. He was said to be 42 years old, which in Japanese superstition is considered an age where men are bound for a tumultuous and unlucky year.[9] In the final game, Cor is 45 years old. The age change may be due to timeline continuity regarding Cor having accompanied Regis on his trip thirty years ago; if Cor was 42, he'd have been only 12 for the trip with Regis.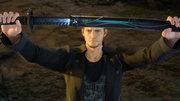 Cor's katana has cherry blossom motifs. Cherry blossom holds much symbolism within Japan, as according to the Buddhist tradition, the brief beauty of the blossoms symbolizes the transient nature of life. Cherry blossoms are tied with samurai culture, and are symbolic of drops of blood and the dignity of falling with grace. The blossoms have come to been associated with mortality. Cor wields a katana, the Samurai's traditional weapon. Cor's katana are named Kotetsu and Kikuichimonji. His original katana was the Genji Blade.
Katanas are generally foreign-forged weapons in Lucis, as revealed in the flavor text for Masamune, Genji Blade and Dodanuki. Cor is the only known Lucian to wield katanas (though various daemons wield them).
Cor follows a trend in Final Fantasy of a "Leo/Leon" named character, being tough and strict military men, including Leo Cristophe from Final Fantasy VI, Leon from Final Fantasy II, and Squall Leonhart from Final Fantasy VIII. Cor shares many similarities with Squall in particular. His name refers to a lion's heart, and both are serious, no nonsense characters ranking high among a military organization. Cor's Technique, Lion Roar, is also used by Squall in his expanded appearances, such as Final Fantasy Record Keeper. Squall has gone by the name "Leon" in the Kingdom Hearts games, leading a resistance and protecting people from the enemy behind the scenes as a guest character.
Voice
[
]
Cor is voiced by Hiroki Tōchi in the Japanese version. He shares his Japanese voice actor with Yaag Rosch from Final Fantasy XIII and Zhuyu Voghfau Byot from Final Fantasy Type-0.
In the English version of Final Fantasy XV, Cor is voiced by Matthew Mercer. He shares his English voice actor with Trey from Final Fantasy Type-0 HD.
Gallery
[
]
Etymology
[
]
[view · edit · purge]Cor leonis is a phrase that means "heart of the lion" or "lion's heart" in Latin.
External links
[
]
References
[
]