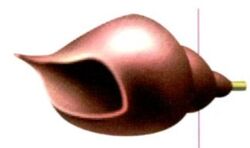 It is said these coiled, hollow shells were once used by mermen to call attacks on galleons strayed too far from the bustle of the shipping lanes.

Final Fantasy Tactics A2: Grimoire of the Rift description
Conch Shell (法螺貝, Horagai?), also known as Trumpet Shell, is a recurring weapon in the series. It is an instrument that has been ranked anywhere from low to high between different games, but usually falls somewhere in the middle.
Appearances
Edit
A conch with the same effect as Shell.

Description
Conch Shell is an item that casts Shell XVI on one target.
Trumpet Shell is a high-ranked weapon for Cait Sith, providing 68 Attack, 118 Atk%, 2 Magic, Critical% +4, and no Materia slots. It can be found in the Temple of the Ancients in Room VII or bought for 3,000 gil in Junon after obtaining the Highwind.
Flute made by boring holes in a twisted conch shell.

Description
Conch Shell is a mid-ranked instrument that provides 31 Attack and 2 Defense, and teaches Rockbeast to the Beastmaster for 200 AP.
Conch Shell is a low to mid-ranked instrument that provides 26 Attack and 2 Defense, and teaches Shelling to the Beastmaster for 150 AP. It can be obtained from the Bazaar from the Grab Bag E pack.
Etymology
Edit
[view · edit · purge]Conch or conque is a musical instrument, a wind instrument that is made from a seashell, the shell of one of several different kinds of very large sea snail.
In Final Fantasy II, "Conch Shell" is actually a mistranslation; the actual item name in Japanese is (つめたがい, Tsumetagai?, lit. bladder moon shell), which is not the same as the name of the recurring weapon. The bladder moon sea snail is not a conch and has a round smooth shell that looks nothing like a conch shell.
Community content is available under
CC-BY-SA
unless otherwise noted.