The Coerthas Western Highlands is a location in Final Fantasy XIV: Heavensward.
Although present in version 1.0, this area was omitted in A Realm Reborn and did not reappear until Heavensward. Flight is possible in this zone once full aetherial attunement is acquired.
The Coerthas Western Highlands lies beyond the glacier at Snowcloak, and thus is normally only accessed by flight from the Holy See of Ishgard. A path leading to the Dravanian Forelands lies in the northeast. Zone connections also exist to the Dravanian Hinterlands in the south and the Sea of Clouds in the north, provided full aetherial attunement was acquired in those zones. Access to Ishgard is possible at the sky docks in Falcon's Nest.
The only Aetheryte is located at Falcon's Nest.
The Coerthas Western Highlands contains the following areas:
Riversmeet - Eastern side
Twinpools - Northwestern glacial valley
Red Rim - Large circular ridge in the southwest
Formerly a garrison of knights and falconers, it was originally abandoned when the snows came following the Calamity. Since then, House Durendaire and House Dzemael have been trying to rebuild the settlement into a fort as part of the effort to reclaim the western highlands.

A camp in the Twinpools, inhabited by vagabonds, scoundrels, and lowborn seeking glory in the hopes of earning prestige among the High Houses of Ishgard.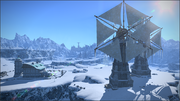 A farmstead north of Camp Riversmeet. Though its previous occupants abandoned it due to the winter, it has since been claimed by many of the heretics in the Western Highlands as a base.

A town once occupied by woodcutters. The freezing since the Calamity has left it a ghost town.

Coerthas's alpine climate may exhibit any of the following weather conditions:
Sunshine
Fog
Overcast
Snow
Blizzards
This former Aetheryte Camp was abandoned when the cold set in and the Aetheryte became encased in ice. Now only wolves prowl the grounds.

An immense black bridge crossing the (now frozen) river. Though frosted, the bridge itself is still intact and serviceable.

Situated in the now frozen Ashpool, this structure is said to have once been a living dragon now petrified.

One of the four vigils surrounding the Holy See, it was cut off when extremely cold weather gripped the region.

A den of yeti that lurk in the Red Rim.

A merchant vessel that ran aground when the area suddenly froze over after the Calamity. There were no survivors.


This section about a location in Final Fantasy XIV is empty or needs to be expanded. You can help the Final Fantasy Wiki by expanding it.
Community content is available under
CC-BY-SA
unless otherwise noted.