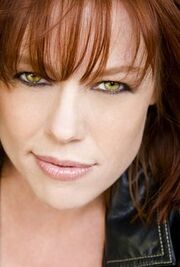 Cindy Robinson (born April 6th, 1973) is an American voice actress. She is the voice for Kan-E-Senna in Final Fantasy XIV and Einheria Venus in the Bravely series.
Outside of the series, Robinson is best known for her role as Amy Rose from the Sonic the Hedgehog franchise. She is also the voice for Labrys in Persona 4: Arena, Astrid from The Elder Scrolls V: Skyrim, and Legretta in Tales of the Abyss.
Lua error in package.lua at line 80: module 'Dev:NavboxBuilder' not found.
Community content is available under
CC-BY-SA
unless otherwise noted.