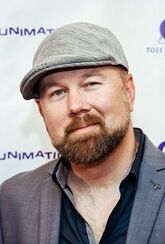 Christopher Robin Sabat (born April 22, 1973) is an American veteran voice actor, ADR director, and audio production company head owner. In the Final Fantasy series, he is the voice of Garland in the Dissidia Final Fantasy series.
He is best known for his wide audial range and deep masculine voice, having first provided his talents for a range of characters in the famous fantasy martial arts series Dragon Ball, including the deuteragonists Vegeta, Piccolo, and Yamcha, Kazuma Kuwabara in supernatural action series Yu Yu Hakusho, Roronoa Zoro of fantasy pirate adventure series One Piece, Alex Louis Armstrong of science fantasy adventure series Fullmetal Alchemist, Daisuke Jigen of crime comedy drama series Lupin the III, Ayame Soma of fantasy romance harem series Fruits Basket and Toshinori Yagi/All Might in My Hero Academia.
Community content is available under
CC-BY-SA
unless otherwise noted.