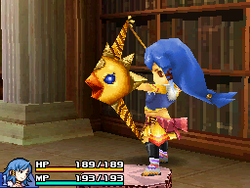 A bow modeled after fabled fantastical fowl creature. It has a distinctive... scent.

Crystal Chronicle series description
Chocobow (チョコボアロー or チョコボウ, Chokobo Arō?, lit. Chocobo Arrow) is a recurring weapon in the series.
Appearances
Edit
Chocobow is the most powerful bow, providing 148 Attack, 5 Defense, and 5 Magic. It can be made using the Lil' Yella Fella scroll and requires 5000 gil to buy.
Chocobow is a mid-ranked bow, providing 62 Attack, +30 Stun, 2 Jewel slots, and can be used by all races.
Etymology
Edit
"Choco" is short for "chocobo". [view · edit · purge]The name "chocobo" derives from a Japanese brand of chocolate malt ball by Morinaga, ChocoBall (チョコボール, Chokobōru?). The mascot for this product is Kyoro-chan (キョロちゃん?), a bird who says "kweh."
食う / くう / kuu is a rough way to say "eat", whose volitional casual form is 食え / くえ / kue ("let's scoff 'em down!"), leading to Kweh!
Community content is available under
CC-BY-SA
unless otherwise noted.