But I will be reborn once more. So even as you die, again and again, I shall return. Born again in this endless cycle I have created!

Chaos
Chaos is the antagonist and the final boss of the original Final Fantasy. He is a demonic monster who maintains a time loop. He is the quintessential Final Fantasy antagonist and final boss, many future villains paying homage to him. The elements of chaos and harmony, often represented by darkness and light, have become a recurring theme in the series.
Profile
[
]
Appearance
[
]
Chaos is a horned demon with large wings, sharp claws and a tail. His kneecaps depict monster faces. Chaos's demonic appearance may have been based on Gustave Doré's illustrations of Satan (Devil or Lucifer) from John Milton's Paradise Lost. In Final Fantasy a dragon's head emerges from his stomach, but in Dissidia this has been changed to a loincloth depicting a dragon, held with another monster face buckle. In Dissidia he has four arms and a darker coloration–he is more brown-toned in Final Fantasy, and more black and purple in Dissidia.
Personality
[
]
Chaos seeks immortality and creates a time loop to live forever. He is the antithesis to the light and harmony represented by the Crystals.
Story
[
]
Gameplay
[
]
Chaos is fought as the final boss. He is remembered for his noteworthy death animation, which shows him disintegrating, a somewhat innovative phenomenon in games for the NES. This style of death was repeated for final bosses of future games in the series.
Musical themes
[
]
In the NES version Chaos uses the standard battle theme, but later editions give him his own music.
In the NES version his battle's music is "Battle Scene", while in the WonderSwan Color version "Last Battle" plays.
In Theatrhythm Final Fantasy the theme used in the Battle Music Sequence (BMS) is an arranged version of the "Chaos Shrine" theme, which can also be heard in the menus for the Chaos Shrine section.

Other appearances
[
]
Chaos is the God of Discord and the main antagonist. He summons enemies from other universes to defeat Cosmos, the Goddess of Harmony, who has summoned heroes to fight Chaos's forces in an endless cycle of war. Unlike the Chaos of the original Final Fantasy, who was identified as another form of Garland, it is unclear what relationship Garland of the Dissidia series has with this incarnation of Chaos.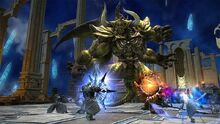 Chaos is a boss in the Omega series of raids, making his entrance in the Alphascape. Having proven himself among the strongest of Omega's creations, Chaos is pitted against the Warrior of Light's party, using many of his elemental attacks seen in previous incarnations, as well as manipulating the arena to enhance them. He is defeated and erased from the interdimensional rift.

Chaos's true name is Garland, the same who was defeated by the Warriors of Light. Retreating in time, he sends copies of himself into the future to change his fate. Destroy Chaos to free the world.

Chaos's CollectaCard
Chaos is the "final boss", fought after accumulating 20,000 Rhythmia.
The "copies" Chaos's Theatrhythm Final Fantasy CollectaCard mentions is most likely a mistranslation of the "Four Chaoses" (Four Fiends). As evidence of this, the text regarding his copies was changed to simply state the Four Fiends in his Theatrhythm Final Fantasy Curtain Call CollectaCard.

In an endless battle against the goddess Cosmos, victory has bloated this god of disorder's powers and the hour of the end seems near. In search of the ultimate chaos, this dark lord will disrupt the eternal cycle of life...

CollectaCard
Chaos is a playable character unlocked by collecting 20000 Rhythmia points, leading to an encounter with Chaos where the player must win. As an enemy, he returns as a normal encounter, in addition to his Feral Chaos form, who is fought after accumulating 40000 Rhythmia points.
He is an Overpowered character. His Limit, Utter Chaos, deals damage in proportion to his Strength and Magic.
Chaos appears as an enemy in his original Final Fantasy and Dissidia Final Fantasy appearances.
Chaos appears in Final Fantasy Airborne Brigade.

Chaos appears as an ability card in Mobius Final Fantasy.
Chaos appears in Final Fantasy Trading Card Game as Dark-elemental cards. He is depicted in his Dissidia Final Fantasy appearance, and Theatrhythm Final Fantasy and Yoshitaka Amano artworks.
Chaos is mentioned in the introduction of the Final Fantasy Portal App's Triple Triad.
Non-Final Fantasy guest appearances

[

]
Chaos appeared as part of the Final Fantasy collaboration. He was introduced in the event that happened in the North American version November 2–15, 2015. When fought in the Netherworld, he uses Cyclone, Blaze, Blizzaga, Flare, Curaga and Haste. After defeating him, he drops Cloud's Buster Sword.
He was obtainable as a 4-star ranked unit named "Chaos", with a devil type and dark and light elements.
As a 4-star ranked unit, Chaos appears in his standard form and emits a dark aura. His active skill is Soul of Oblivion and his leader skill is I will be reborn again here.
Gallery
[
]
Etymology
[
]
[view · edit · purge]Chaos refers to the void state preceding the creation of the universe in Greek creation myths, or to the initial "gap" created by the original separation of heaven and earth. Chaos also refers to a state of disorder, disharmony, dissonance, lawlessness, and unpredictability.
Allusions
[
]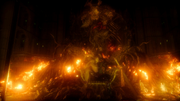 The throne that appears in Chapter 0 of Final Fantasy XV resembles the throne Chaos sits in in a concept art piece by Yoshitaka Amano

for the original Final Fantasy, likely being modeled after it.

References
[
]
See also
[
]