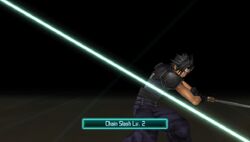 Chain Slash (連続斬, Renzokuzan?, lit. Continuous Cut), also known as Chainstrike, Triple Cut, and Slash Flurry, is a recurring ability in the Final Fantasy series. It is an ability used exclusively by Zack Fair.
Appearances
Chain Slash is the default Digital Mind Wave for Zack, used when no images match up in the slots. Zack does multiple slashes to one target, which deals one hit of non-elemental physical damage to one target, with a power of 48 at Level 1, 54 at Level 2, 60 at Level 3, 66 at Level 4, and 76 at Level 5.
Slash Flurry is an active physical ability that inflicts neutral physical damage on a single target for 6 AP. It has low topple strength. It can be used by Lann (Zack's Champion Jewel).
Gallery
Community content is available under
CC-BY-SA
unless otherwise noted.