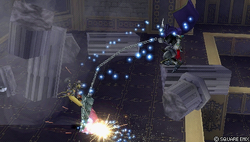 Chain Cast (チェーンバンプ, Chēn Banpu?, lit. Chain Bump) is a recurring ability in the Final Fantasy series. It is an ability used exclusively by Garland's Dissidia appearance.
Appearances
Edit
Chain Cast is an aerial physical Bravery attack for Garland, learned at the start of the game. It requires 30 CP to equip (15 when mastered), 180 AP to master, has Melee Low priority, and can induce Chase. Garland whips his sword out on a chain downwards and then back up to knock his opponent into the air.
Chain Cast returns as a physical Bravery attack for Garland, now requiring 100 AP to master. It is otherwise identical to its previous appearance.