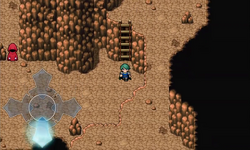 Cave of Dread (暗黒の洞窟, Ankoku no Dōkutsu?) is a location in Final Fantasy Dimensions. It's located to the east of Aulë. There is a pot that can fully restore HP and MP to the characters.
Story
[
]
Treasure
[
]
Ore chunks are randomly found on the ground. They respawn whenever the dungeon is re-entered.
Enemies
[
]
Trivia
[
]
Some enemies in this dungeon cannot be killed with a physical attack. However, casting Break at the start of a battle will kill them instantly, although they're somewhat resistant to the spell.
Gallery
[
]