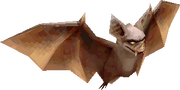 The Cave Bat (フェイスバット, Feisubatto?, lit. Face Bat), also known as the Face Bat, is a recurring enemy in the series.
Appearances
Edit

In both the 2D the Cave Bat is a common sight in the Lodestone Cavern and Cave of Eblan. It is not a very powerful enemy, despite the ability to drain HP from the party to replenish its own health.

They attack in colonies of six in the Cave of Eblan. As Edge is on his own, he can defeat all of them in a single attach by using one of his Ninjutsu abilities such as Flame.
It frequently uses Bloodfeast to Drain HP and inflict Sap on a party member, and usually appears in groups of three or more. They are of no threat to the party.

Cave Bat is a type of bat enemy found in Lower La Noscea.

Cave Bat is an enemy found Outside Capo.
Community content is available under
CC-BY-SA
unless otherwise noted.