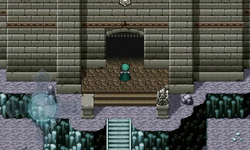 Castle Falgabard (ファルガバード城, Farugabādo Jō?) is a location in Final Fantasy Dimensions. It's surrounded on three sides by peaks, making it harder for those who want to come to attack it on foot. However, aerial attacks are lethal as steep cliffs give people here a huge disadvantage.
Story
[
]
When the Warriors of Darkness ask Kokkol about a ghost in the Umberwood, he tells them that it's probably the ghost of a person who was killed at Castle Fabgabard. So the Warriors decide to go there.
The ghosts here keep telling that Sigurd abandoned Graham and should pay for this crime. They died trying to protect Mt. Gulg from the Avalon Empire. The warriors also come across some bandits and their boss. The warriors defeat the gang, who then escape through a secret Passage. Warriors then follow them.
Treasure
[
]
There is a pot that can fully restore HP and MP.
Shops
[
]
Items

[

]




Weapons

[

]

Armor

[

]
White Magic

[

]

Black Magic

[

]
Enemies
[
]
Gallery
[
]