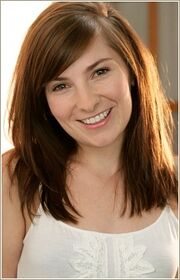 Cassandra Lee Morris (born April 19, 1982) is an American voice actress. Having started her career as a teenage program host for an educational video series called Real World Science, she worked as a journalist in New York City and Los Angeles writing for local newspapers and programs as well as numerous fashion and style blogs such as About.com, David's Bridal and Patch.com. She mostly appears in titles for 4Kids Entertainment, Bang Zoom! Entertainment, NYAV Post, Studiopolis and DuArt Film and Video.
She voices Mutsuki Chiharano in Final Fantasy Type-0 HD and Enna Kros in World of Final Fantasy.
Roles
[
]
Background
[
]
She is known for voicing Suguha Kirigaya (Leafa) in the Sword Art Online series, Yubel in Yu-Gi-Oh! GX, Leo and Luna in Yu-Gi-Oh! 5D's , Nee and Norika Paku in Blue Exorcist, Elphelt in Guilty Gear Xrd Ritsu Tainaka in K-On!, Taiga Aisaka in Toradora, Atra Mixtra in Mobile Suit Gundam: Iron-Blooded Orphans,and Sophie from Tales of Graces ƒ. She also voiced Saki Mikajima in Durarara!!, a project by Square Enix.
External links
[
]